Boost Hand & Surface Sanitizer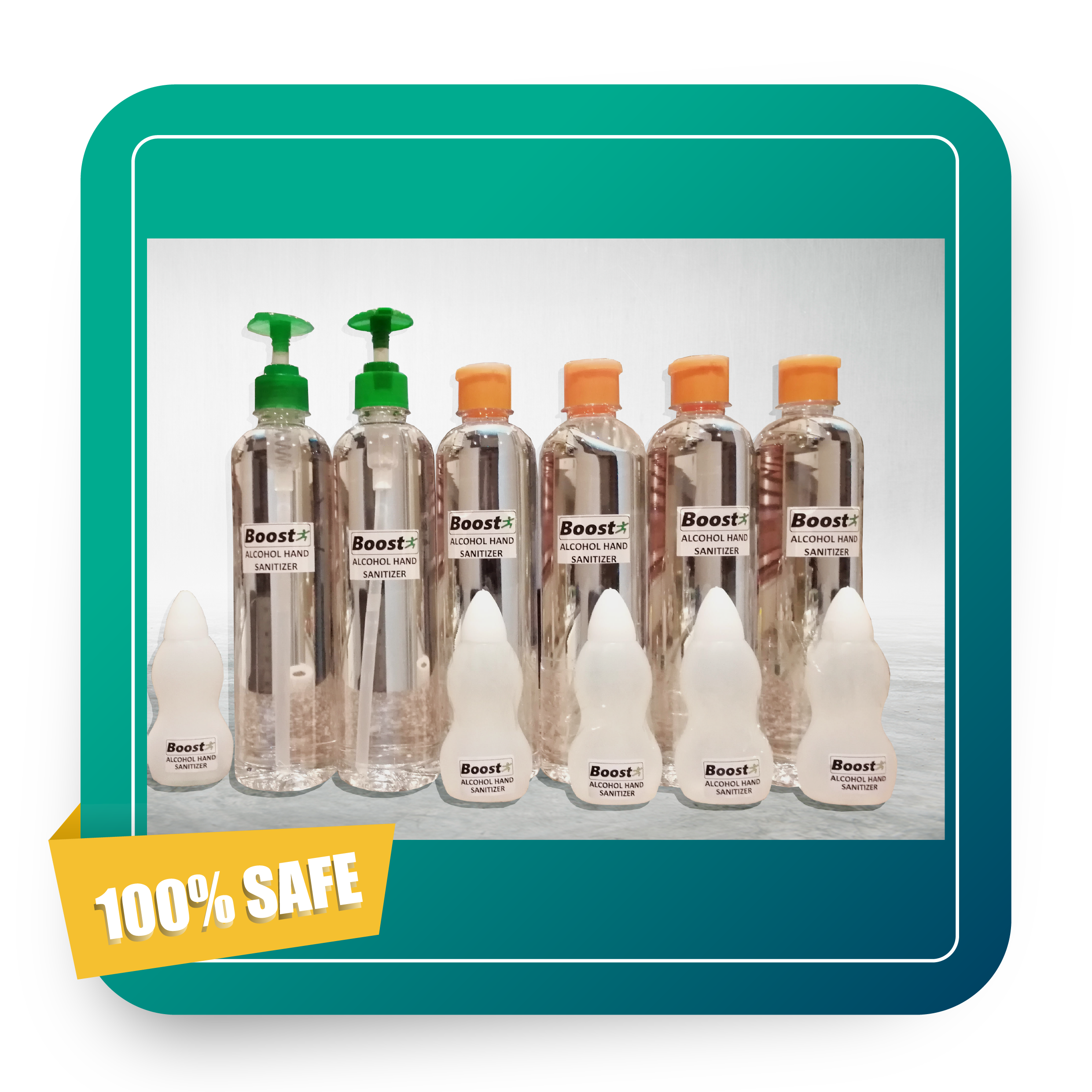 What is an Alcohol Based Sanitizer?
Alcohol Based Hand Sanitizers are very effective for quickly destroying many pathogens by the action of the aqueous alcohol solution without the need for water or drying with towels.
According to the Centers for Disease Control and Prevention (CDC), alcohols have excellent in vitro germicidal activity against gram-positive and gram-negative vegetative bacteria, including multidrug-resistant pathogens (MRSA, VRE), Mycobacterium tuberculosis, HIV, influenza virus, RSV, vaccinia, and hepatitis B and C viruses 1.
Our Sanitizer is specially formulated for safe use on Hands and Surfaces.
For Hands, pour directly onto hands and rub. Allow to air dry.
For Surfaces, pour directly into a paper towel and wipe surface.

We source the individual chemicals locally, from reputable suppliers. Boost Hand & Surface Sanitizers contain 85% Alcohol certified by the SABS.

Boost Hand & Surface Sanitizer is available in:
- 80ml easy-to-carry droppers
- 500ml flip-top bottles
- custom contract refills for hospitals, doctor's practices, and businesses
Warnings
Contact with eyes, nostrils and mouth will cause a burning sensation. Flush well with water. If burning sensation continues, seek medical attention. In the event of ingestion seek medical attention.
Due to the high alcohol content per litre, contents are Highly Flammable and must be treated with care. Each bottle is properly sealed, and checked. After application, keep hands and surface away from open flames until completely dry.
References
1 Gold NA, Avva U. Alcohol Sanitizer. StatPearls 2020. StatPearls Publishing NBK513254